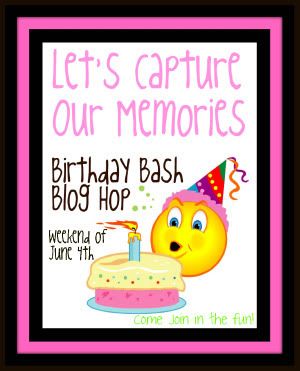 Wow - "
Let's Capture Our Memories
" is already 1 year old! When the old Paws On site & store closed down, Tanya, aka Tinkerbell, made sure that the gang wouldn't be scattered to the four winds. She started
LCOM
(as it's become know to the members) and the family has grown. They are a fun and friendly bunch, with a TOP NOTCH owner (Tanya), kick-ass DT, and always something going on. Plus, you never know what sort of shenanigans some of us might get up to on a Friday night (dueling ear-worms anyone?).
Anyway - as part of their anniversary celebrations, they are having an on-line crop this weekend, a Saturday night live chat with
Liz Hicks
from
Tattered Angels
, and a blog hop. The blog hop is not just DT - it's also a bunch of members of
LCOM
. I hope you will join us on the hop!
Here's the list:
Rusha <=== You were linked from here
JJ <=== You are Here
Amy <=== Next Stop on the Blog Hop
Leave a comment, and be entered in a draw for a small blog candy (there will be several of these, in different colours):
Now - I can't just post without something to look at, can I? A few months back I participated in a tournament at
LCOM
. Here is one of the layouts I did. It was for the "Playful" challenge.
Supplies:
PP - Rose Moka
paper 'frills' - Doodlebug
letters - American Crafts Thickers
rub-ons - October Afternoon, Doodlebug, 7 gypsies, DCWV
buttons - Doodlebug, Buttons Galore
pins - Fancy Pants, Making Memories
ink - Ranger
mists - Tattered Angels
white pen - Uniball Signo
Don't forget to visit
Amy's
blog - the next stop on this blog hop!
PS - I hope you will come back and visit me here - I'm going to be doing some celebrating of my own - with a bigger Blog Candy (there might be Prima involved, I'm just sayin'...). The post will be up sometime next week!